You are here
MS Pharma Network 2018
Italian Mass Spectrometry Society (IMaSS) is pleased to introduce You:
MS Pharma Network 2018
"Size does not matters: Small and Large Analytical Challenges"
Villa Aurelia, Rome - Via Leone XIII 459
February 19-21st, 2018
Click on the flyer to visit the event website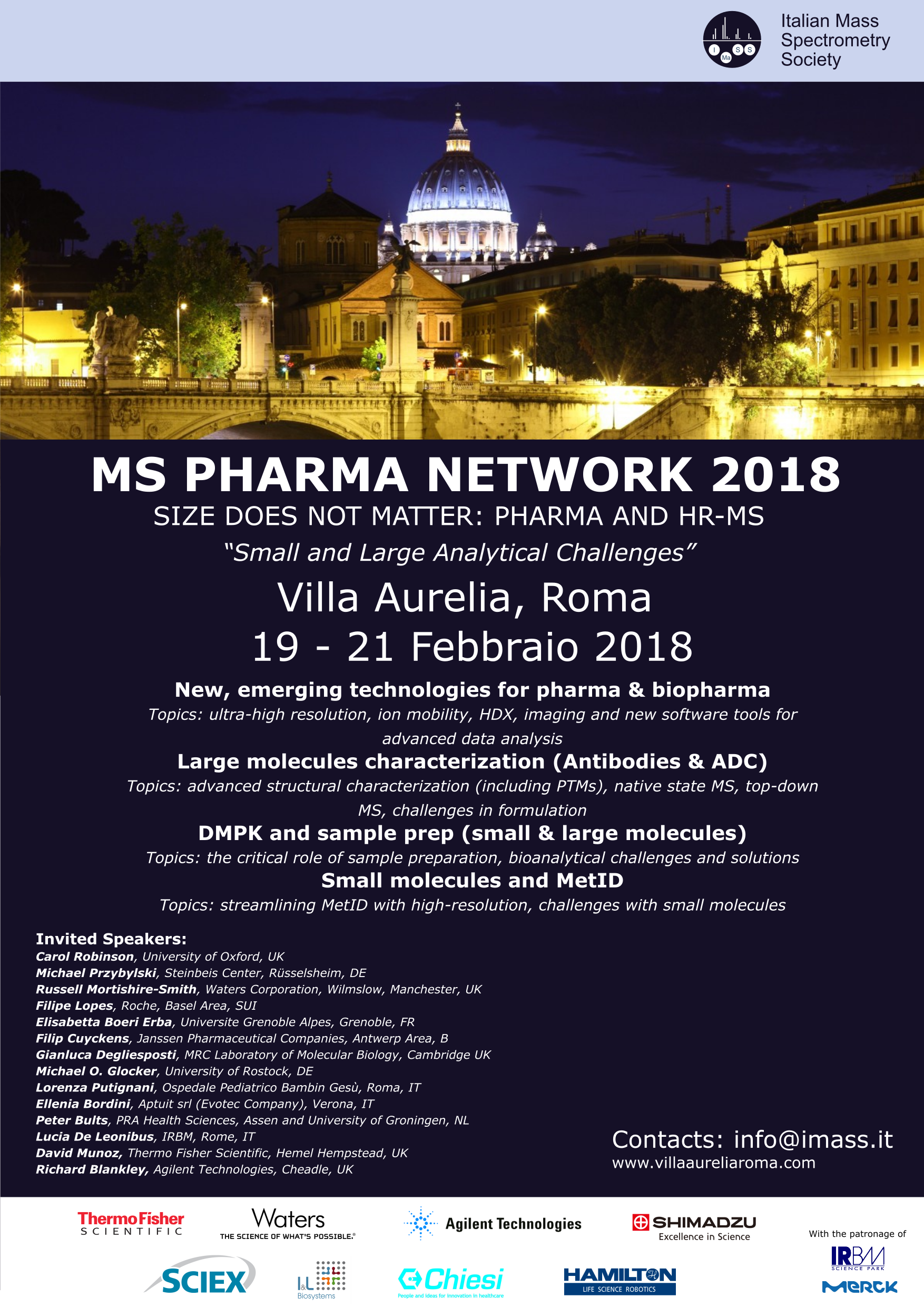 Sessions & Topics
New emerging technologies for pharma & biopharma
Topics: ultra-high resolution, ion mobility, HDX, imaging and new software tools for advanced data analysis
Large molecules characterization (Antibodies & ADC)
Topics: advanced structural characterization (including PTMs), native state MS, top-down MS, challenges in formulation
DMPK & sample prep. (small & large molecules)
Topics: the critical role of sample preparation, bioanalytical challenges and solutions
Small molecules and MetID
Topics: streamlining MetID with high-resolution, challenges with small molecules
Official Languages:English & Italian
Scientific & Organizing Commettee
Fabio Bonelli (IRBM science park s.r.l.)
Silvia Catinella (Chiesi Farmaceutici)
Ornella Curcuruto (Aptuit, an Evotec Company)
Barbara Pioselli (Chiesi Farmaceutici)
Caterina Temporini (University of Pavia)
Andrea Armirotti (IIT - Italian Institute of Technology)
Chiara Bigogno (Aphad s.r.l.)
Claudio Medana (University of Turin)
Angela Capolupo (Merck Serono)
With the active support of:
Agilent Technologies
Chiesi Farmaceutici
Hamilton
Sciex
Shimadzu Italy
Thermo Fisher
Waters
Become a member of IMaSS to get access to our Reserved Area, where it will be posted minutes of members assembly and much more!
We remind all members to renew their membership to IMASS for the year 2023: Click here!
Problems with our website or with login?
Please contact: info

imass.it