You are here
Congress
IMaSS, CNR-IENI ed Istituto di Ricerca Pediatrica di Padova
are pleased to introduce
MALDI-MS in Lab Routine and Research Projects:
An Update on Microorganisms ID
January 27, 2016
Area della Ricerca (CNR) - Istituto di Ricerca Pediatrica (IRP)
Corso Stati Uniti 4, Padova - Italy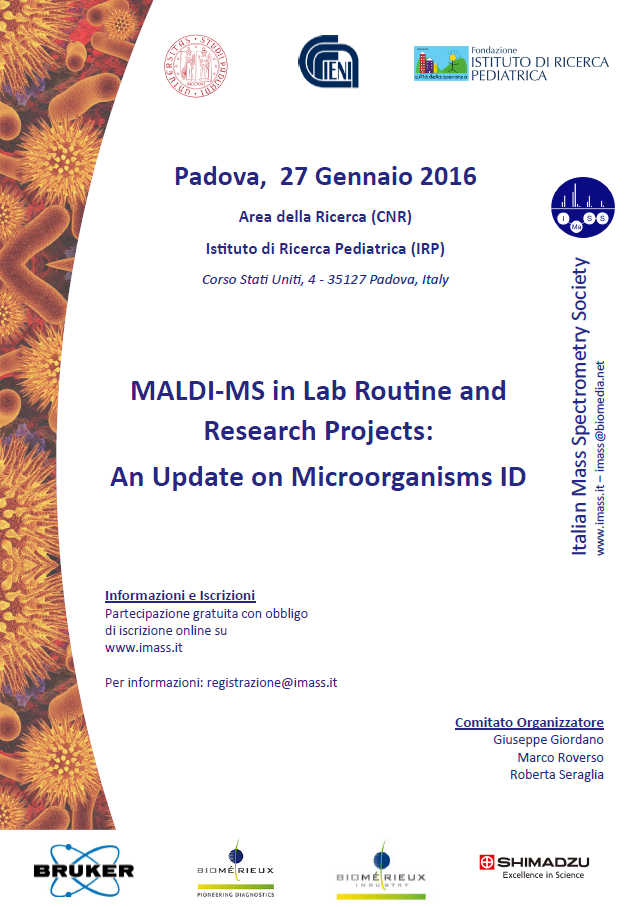 Mass spectrometry has revolutionized the way that microorganisms are analyzed and identified in clinical diagnostic routine. Recently MALDI-MS provides rapid, accurate and inexpensive method for bacteria, mycobacteria, yeasts and fungi identification in microbiology labs. This one-day meeting will be focused on the technological and applicative aspects of the technique, also hoping in a better interaction between microbiologists and mass spectrometrists.
The program includes a series of lectures holded by experts in the field.


View the meeting program:
Organizing Committee
Giuseppe Giordano
Marco Roverso
Roberta Seraglia
Become a member of IMaSS to get access to our Reserved Area, where it will be posted minutes of members assembly and much more!
We remind all members to renew their membership to IMASS for the year 2023: Click here!
Problems with our website or with login?
Please contact: info

imass.it