You are here
IMaSS Drug Day
IMaSS is proud to introduce You to:
IMaSS Drug Analysis Day
September 25th 2023, Bologna
Polo Didattico Navile, Via della Beverara 123, Bologna
REGISTRATION FORM:


Participation in the day is free for all IMaSS members both in presence than online.
Non-members can participate only live, at a cost of 50 euros.
POSTER SESSION AND ABSTRACT SUBMISSION:
It is possible to participate in the poster session by sending an abstract (deadline on September 15th) to the mailbox: abstract.submission

imass.it
Maximum poster dimension: H = 100 cm, L = 75 cm
Abstract generation template: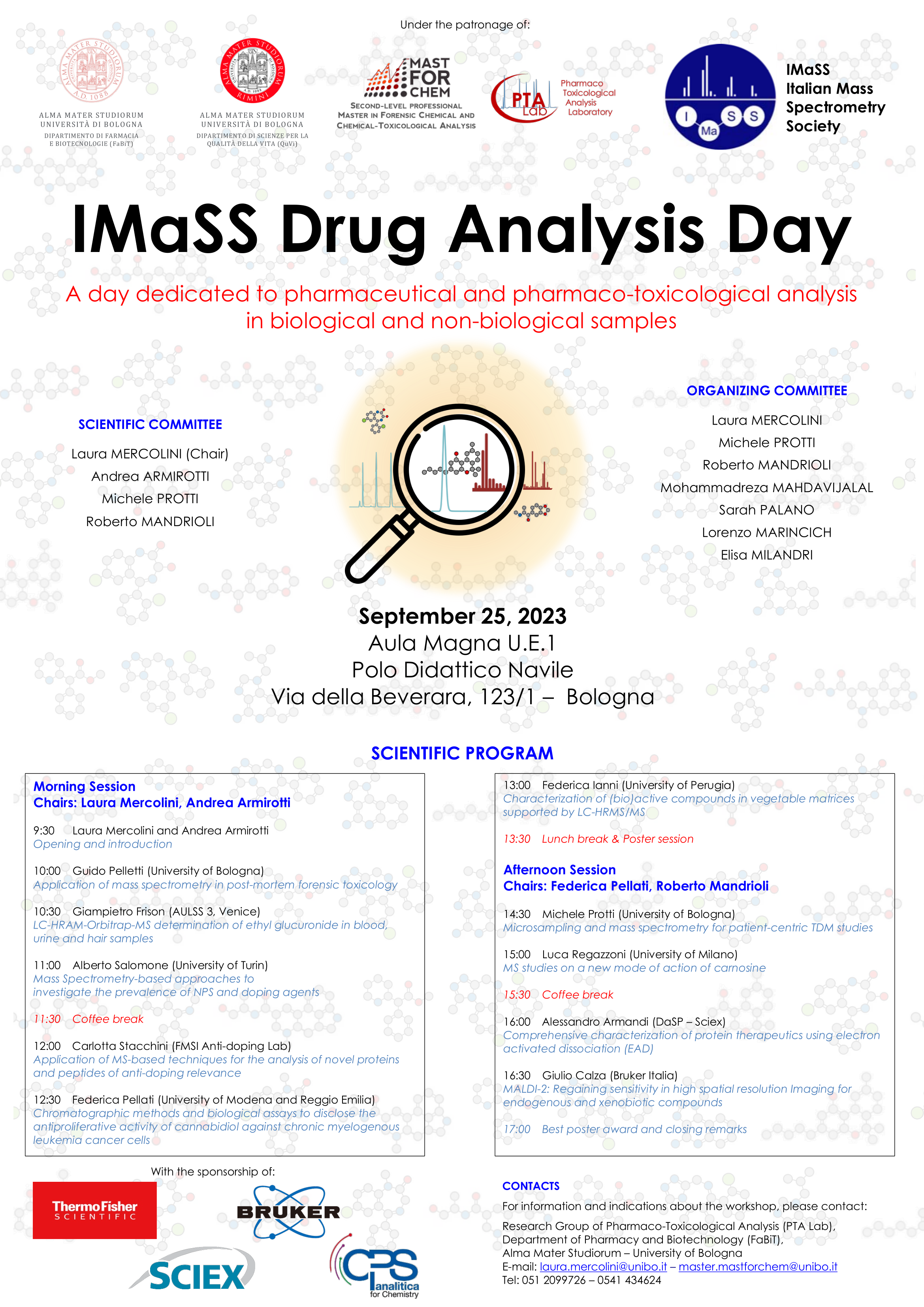 As the field of drug analysis continues to advance rapidly, it is essential for professionals, researchers and students alike to come together and exchange knowledge, ideas and insights.
This day serves as a remarkable platform where experts from various disciplines gather to discuss the latest advancements, breakthroughs, and challenges in drug analysis. Our esteemed speakers, renowned scientists, and industry leaders will provide in-depth presentations and engaging discussions on a wide range of topics.
There will be the chance to connect with like-minded individuals, foster collaborations and explore innovative technologies and methodologies shaping the future of the field.
Join us at IMaSS Drugs Day to gain valuable insights, share your expertise, and contribute to the advancement of this crucial scientific domain. Together, let us pave the way for safer, more efficient, and more reliable drug analysis methods that will positively impact society.
We look forward to welcoming you to this exceptional event and sharing a memorable and knowledge-filled experience.
Scientific Commettee
Laura MERCOLINI (Chair)
Andrea ARMIROTTI
Michele PROTTI
Roberto MANDRIOLI

Organizing Commettee
Laura MERCOLINI
Michele PROTTI
Roberto MANDRIOLI
Mohammadreza MAHDAVIJALAL
Sarah PALANO
Lorenzo MARINCICH
Elisa MILANDRI
Become a member of IMaSS to get access to our Reserved Area, where it will be posted minutes of members assembly and much more!
We remind all members to renew their membership to IMASS for the year 2023: Click here!
Problems with our website or with login?
Please contact: info

imass.it